Destination Bohuslän – this will be the name of our future cruise ship with which the beautiful archipelago of Bohuslän on the west coast Destination Bohuslän will be larger than most of other existing on this coastline.
The ship's capacity:
160 passengers
cirka 50 push bikes
cirka 15 motor bikes
and 25 cars.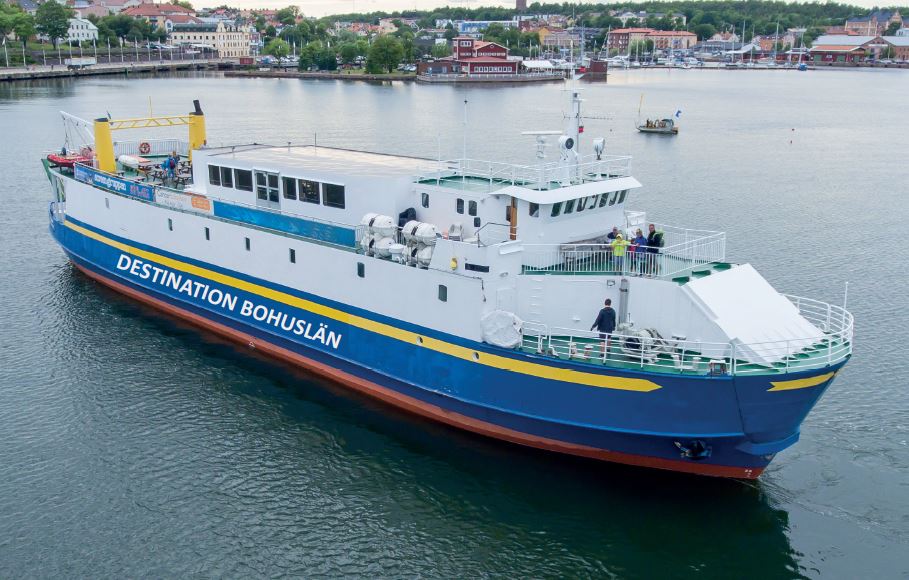 Onboard there are plenty of amenities. In the restaurant and the cafeteria, you will be able to enjoy seafood and other culinary specialties of the region. For cyclists there is a repair workshop as well as an opportunity to rent push bikes. There are also showers and washing machines available onboard. The ship will also be equipped with an elevator for disabled persons.
Routes
The ship will operate Gothenburg – Smögen round trip and make various stops at different ports along the route.
Northbound from Gothenburg we will follow the outer coastline, on the west side of the islands Tjörn and Orust. Southbound we will navigate the inside of these islands of Orust and Tjörn, passing through the pastoral and narrow streams of Malö.
Cars and caravans may be transported between Gothenburg and Lysekil (or vice versa) and can only disembard at these ports. People and other vehicles than cars may embark and disembark at all ports.
Discover and experience the archipelago at your leasure
You can choose from various ways of travel such as "island hopping" and stopovers. Further on we will offer packages with overnight stays in nice hotels.
Close to Lysekil we will offer excursions such as seal safari tours and boat trips to small natural harbours situated west of the Skaftö island. During high season we will arrange evening cruises with entertainment onboard, between Lysekil and Smögen.
The maiden voyage is planned for the summer season 2019.
Welcome on board!